ABOUT US
The Hillel Jewish Educational and Youth Center Foundation Budapest, Hungary is a non-profit organization serves the development of the Jewish life in Budapest. Our director, Linda Verő-Bán is responsible for all the projects Hillel projects. The directing body of our organization is the board with three members. Our income is based on private donations and grants.
FRANKEL SYNAGOGUE
We are in close cooperation with the Frankel Leo street Synagogue organizing educational and community programs and holiday celebrations.
Activities and holidays
httpv://www.youtube.com/watch?v=arDUXCjlD_k
Interactive Family Seder Night
httpv://www.youtube.com/watch?v=Ao-jospwUec
Children's Kabalat Shabbat – every Friday evening during the service
httpv://www.youtube.com/watch?v=SNAMqZrq6D0
Adult education – every Monday evening at 7:00 PM
httpv://www.youtube.com/watch?v=0sZlsL-Nqt0
 PUBLISING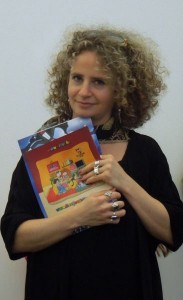 Bee Jewish Books are interactive educational books to all ages. The goal of them is to inspire children, parents and grandparents to find their own personal connection to Judaism through reading, answering questions, drawing pictures, singing songs, and enjoying colorful illustrations.
The author of the books, Linda Verő-Bán, is an experienced Jewish educator and rebbetzen who works with young traditional, secular and interfaith Jewish families at the Frankel Synagogue in Budapest.
PURCHASE THE BOOKS
You can order the books on email or webshop. Special prices are offered for institutions, bookstores, gift and museum shops above 10 copies. Please contact us for details.
CONTACT US
Email: info@hillel.hu  Webshop: shop.hillel.hu
TRANSLATION 
We have published already 10 books in Hungarian, 4 in English, 3 in German, 5 in Slovak, and 1 in Russian, Romanian and Croatian.
Our goal is to provide Jewish theme children books to communities all over Europe in their own language. All they need to do is making the translation and we do all the other works. In 4 -5 weeks we give you the ready books. The books originally written in Hungarian.
BOOK SIGNINGS, WORKSHOPS AND KID'S CORNER
Linda is making book signing events combined with children's workshops or kid's corner fit perfectly to the activities of Jewish educational institutions, museums, festivals, book fairs, libraries, WIZO bazars and JCC programs.