Bee Jewish Interactive Children's Books
References:
JTA (2012)
Jpost (2013)
HuffingtonPost (2010)
Jewish Book Council (2013)
Jüdische Allgemeine (2013)
Kurier (2013)
Wiener Zeitunk (2013)
Report in Wina Magazin
WHAT DOES IT MEAN TO BE JEWISH?
(published in Hungarian, English, German, Romanian, Russian)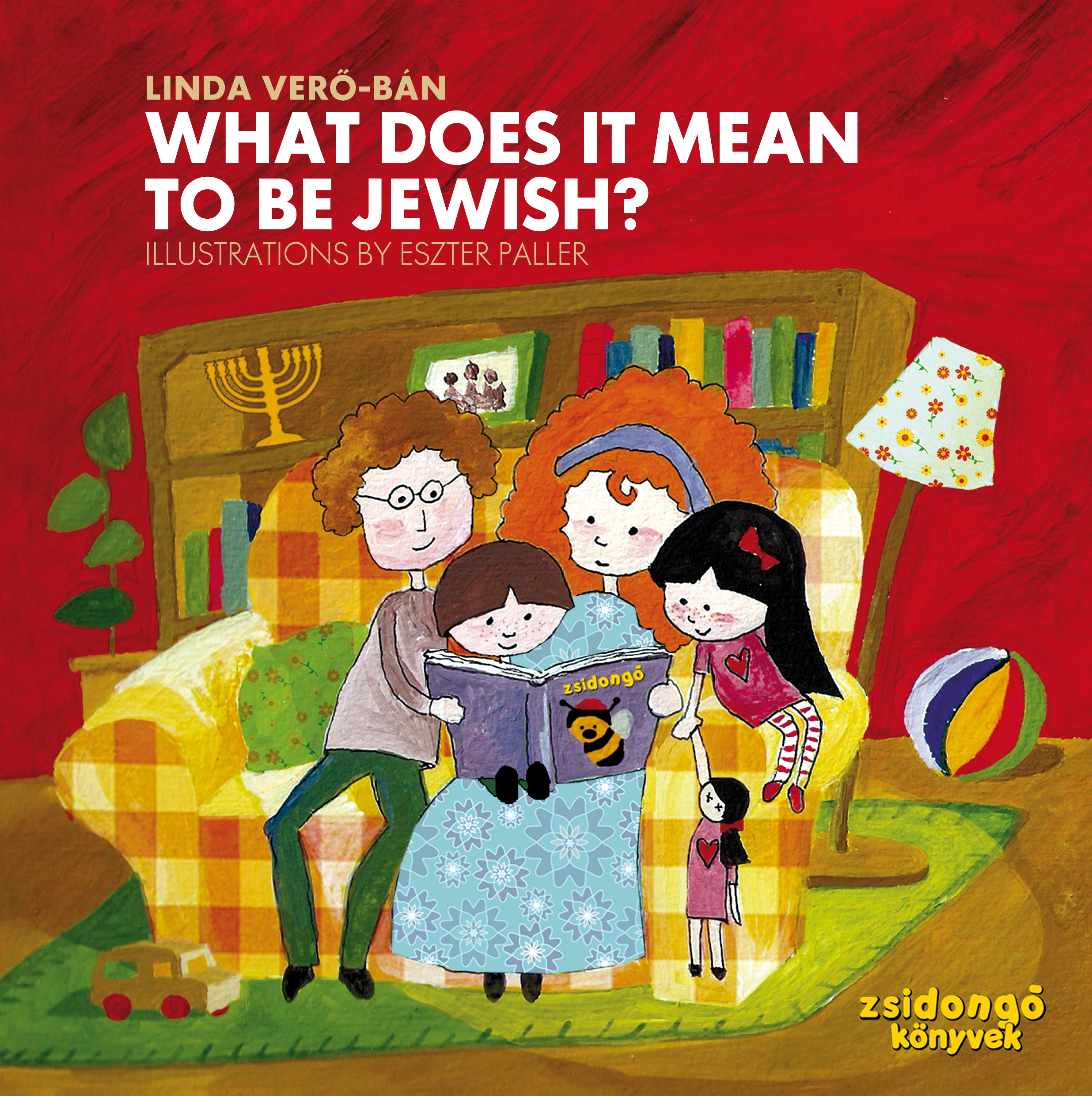 I did not write this book to answer the question in the title myself. Countless parents have difficulty talking to children about Judaism, because they are full of unanswered questions themselves. In most families, this is further complicated by the presence of multiple religious traditions. Children's curious questions about God, faith and religion are an added challenge for parents. With this book, I would like to create opportunities for all members of the family — grandparents, parents, step-parents and children, Jews and non-Jews, believers and non-believers alike — to talk to each other openly and honestly about Judaism, without taboos, expectations or prescribed answers. My approach will generally only be acceptable for those with a liberal attitude to Judaism; therefore I recommend this book primarily for readers of such disposition.
Webshop 12 Euro ~ 16,50 USD
SAMPLE PAGES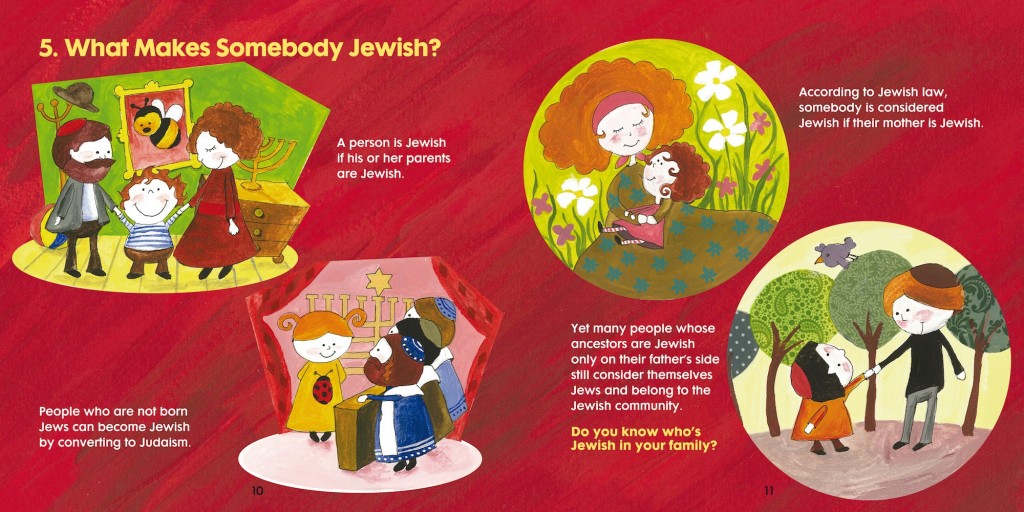 INTERACTIVE JEWISH PRAYER BOOK FOR CHILDREN
(published in Hungarian and English)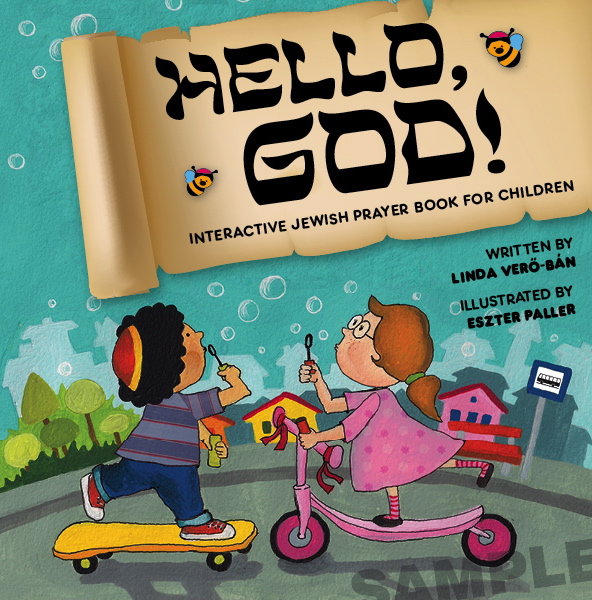 Hello God! is an interactive siddur that combines the style of a prayer book, diary and activity book. In contrast with most children siddurs it does not follow the daily routine and holiday rituals of an observant child and the synagogue service, either – which are often unfamiliar for young readers. Hello, God! helps children to understand the notion of praying and to connect themselves emotionally to the ancient texts. This siddur' goal is not to provide a reason to pray for but to offer a source for occasions when children might feel the inspiration to talk to God – in happy, special or difficult moments. Children's drawings personalize the prayers and form the book into a diary. The Hebrew texts are completed by transliteration and translation.
Webshop Price: 12 Euro ~ 16,50 USD
HEBREW SONGS FOR JEWISH HOLIDAYS DISC AND TEXT BOOK
(published in Hungarian and English)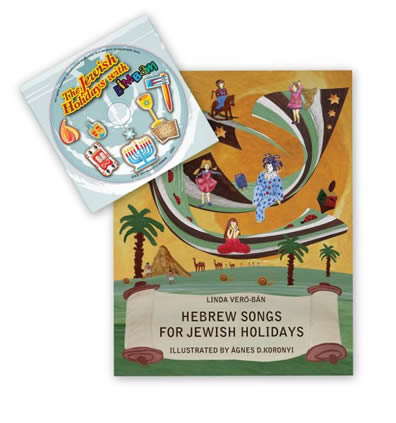 41 Hebrew songs for all the Jewish holidays on the CD disc, with their phonetic lyrics and short explanation, in the fully illustrated book. You will find the most popular song on the disc like Mah nishtana, Sevivon sov, sov, sov, Maoz tzur, Halleluyah and many others. Children will be able to sing along with the beautiful voice of the Bim Bam children choir.
Price: 16 Euro ~ 22 USD
SAMPLE SONGS FROM THE DISC
BECCA'S FAMILY PHOTOS – JEWISH LIFE IN BUDAPEST
(published in Hungarian and English)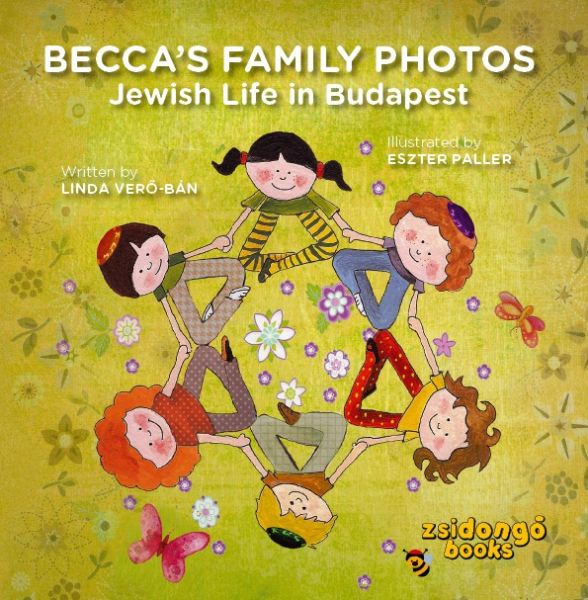 For her sixth birthday, Rebecca's grandpa gives her a photo album in which family stories come to life. He selects images where family members can be seen with some aspects of the Judaism that makes up an important part of their lives. The photographs candidly reveal the expression of Jewish identity in the life of a modern family that nevertheless values its traditions. The book offers parents and grandparents a great opportunity for starting conversations with their children and grandchildren about their Judaism, the past and present.
Price: 12 Euro ~ 16,50 USD
INTERACTIVE CHILDREN'S HAGGADAH with stickers and puzzle

(published in Hungarian, German and Slovak)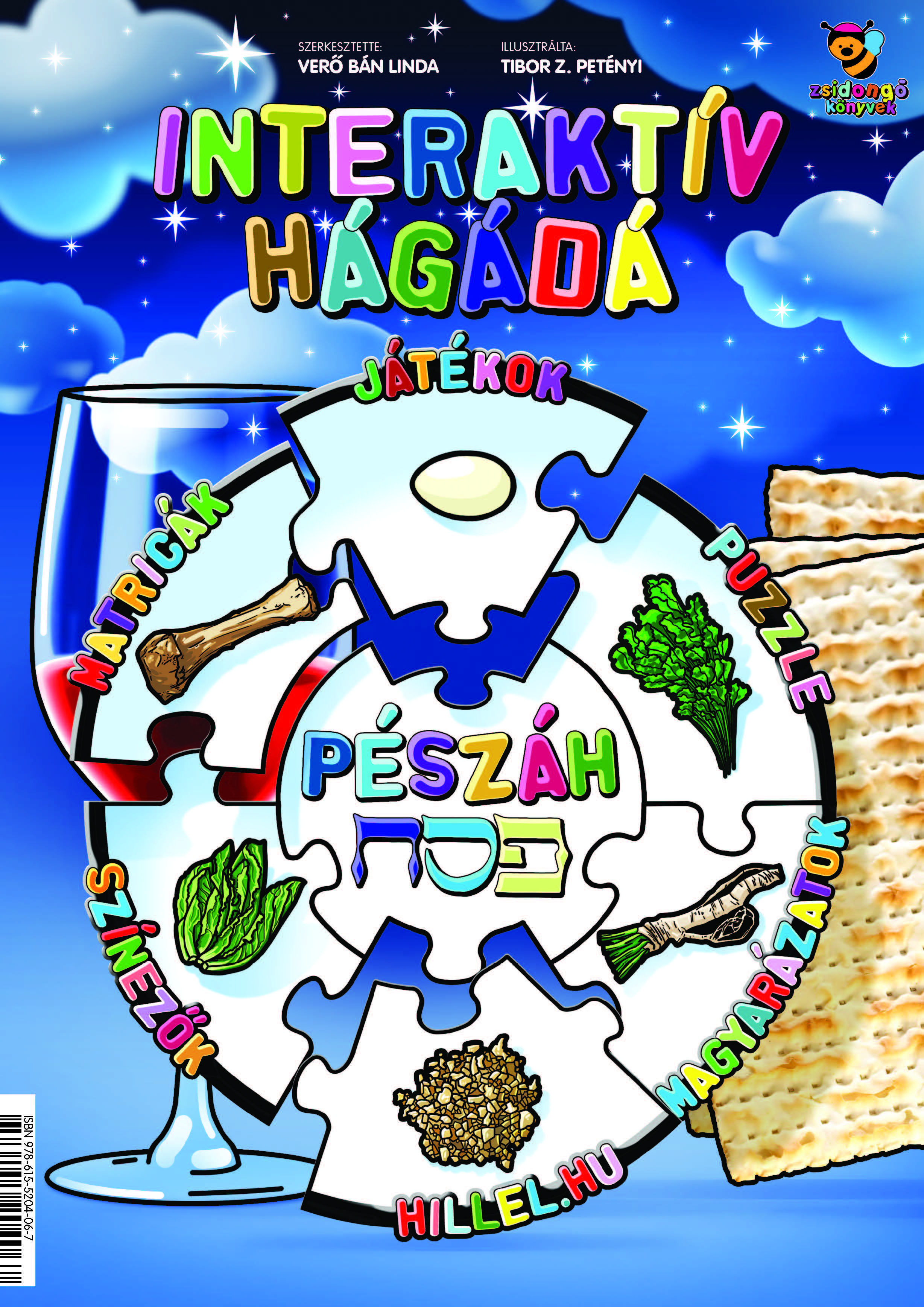 With this book you can easily make a 60-90 minutes interactive family Seder  night at home. The book gives you ideas how to engage and involve the kids during all night.
With stickers and  coloring pages children can personalize their own Haggada as part of the holiday preparation advance.
Each song has a QR code directs you to listen and learn it.
Creative games, questions, and a real puzzle toy guarantee you a substantial, interesting and fun Seder night.
INTERACTIVE BOOK FOR CHANUKKAH
(published in Hungarian, German, Slovak, Croatian)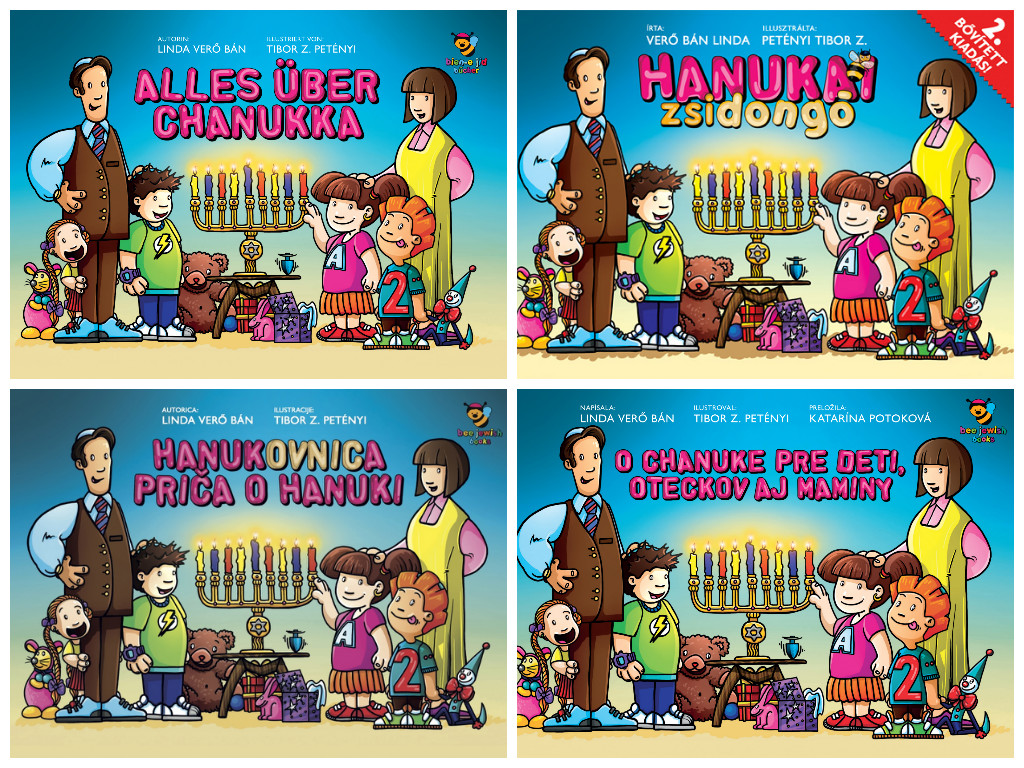 What is the story behind Chanukkah? How we celebrate it? How we light the candles and play with the dreidel? What's the difference and the similarity between Chanukkah and Christmas? Fun games and exercises make the children learn about the holiday.
Price: 10 Euro ~ 13 USD
SAMPLE PAGES

INTERACTIVE BOOK FOR PASSOVER
published in Hungarian and Slovak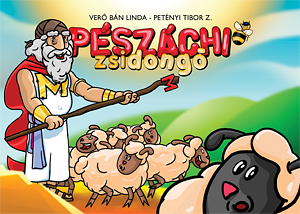 Everything children should know about Passover. What we celebrate? What are the traditions connected to the holiday? How we prepare for it? What songs we sing?
Games, coloring pages and exercises for the holiday.
Price: 10 Euro ~ 13 USD
Webshop
SAMPLE PAGES
INTERACTIVE BOOK FOR HIGH HOLIDAYS
published in Hungarian and Slovak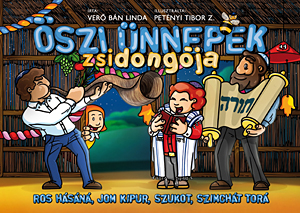 Everything you should know about the High Holidays (Rosh Hashanah, Yom Kippur, Sukkoth and Simchat Torah).
History, traditions, games and exercises.
Price: 10 Euro ~ 13 USD
Webshop
SAMPLE PAGES
INTERACTIVE BOOK FOR PURIM
published in Hungarian and Slovak – out of stock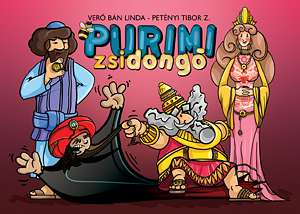 Read the shorted version of the Megilat Esther with the funniest illustration. Learn about the mitzvot and traditions of the holiday.
Games and exercises entertaining and teaching the children to everything they should know about Purim.
BOOK OF JEWISH SYMBOLS 
published in Hungarian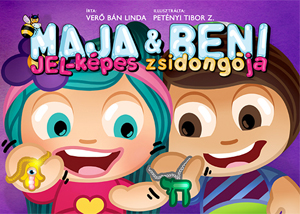 This manga style book introduces the basic Jewish symbols and ideas like Magen David, Chamsa, Minyan, Kippah and others. Two main characters of the book, Maya and Beny tell short stories to every section.
Price: 10 Euro ~ 13 USD
SAMPLE PAGES