Author of Bee Jewish Interactive Children's Books: Linda Verő-Bán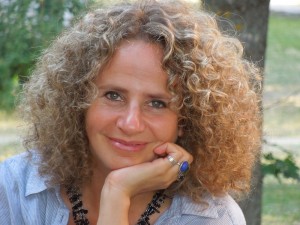 Linda Verő-Bán was born in 1976 in Budapest, Hungary. Linda was among the first ones who rebuilt the Jewish life in Budapest as a teenager after the Communist era. She graduated in Art History at the Hebrew University of Jerusalem, Israel and studied Jewish studies at Paideia in Stockholm, Sweden.
Linda is the director of the Hillel Foundation Budapest and working on informal Jewish educational programs. She is organizing the Sunday School and Family Kabalat Shabbat program of the Frankel Synagogue where she also holds the rebbetzen status.
Linda started to write and publish interactive Jewish children's books in 2007 because she felt the lack of modern Jewish children's books in Hungarian.
With Bee Jewish Books (Zsidongó books) Linda created a an outstanding Jewish children's book series and helped thousands of Jewish family to learn and talk about Judaism in a pluralistic and fun way. The books are translated to seven languages. She is making workshops and book signing events and activities based on her books.